Epic Racers is a racing computar game maker game developed and published by Mrpinky13 on yoyogames.com The game itself is still being processed and to be release sometime in 2013.
A Beta Demo Version of Epic Racers was made on December 12, 2011 and could be downloaded,but the link has been broken.
Mrpinky13 is remaking the game with a new engine, and the game will be release in 2014.
Game Modes
Edit
Quick Race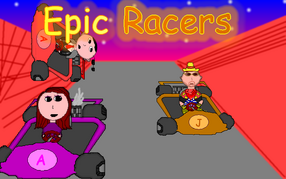 Starter Characters
Edit
Unlockable Characters
Edit
Gladiator Cup
tree raceway
Egypt Showdown
Penguin Island
Dino Island
Cupcake Cup
Shadow Cemetery
Cruiseship 13
Dung Dung Zoo
Dusty Desert
Epic Cup
Dog Park
Jazzin Jungle
Moonlight City
The Epic Colliseum